Andrew J. Londerholm has joined Klinedinst San Diego as Associate. Mr. Londerholm brings his complex litigation experience to the firm's Construction Litigation Practice Group. 
SAN DIEGO, CALIFORNIA – Klinedinst is pleased to announce Andrew J. Londerholm has joined the San Diego office as Associate. Mr. Londerholm focuses his practice on business-related issues including residential and commercial construction litigation.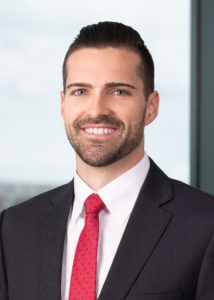 Mr. Londerholm represents clients in complex litigation, with significant courtroom and trial experience. He has successfully litigated public and private construction disputes involving sureties, principals, and obligees, as well as matters involving both contract and commercial bonds. Prior to joining Klinedinst, Mr. Londerholm's practice included trust and estate matters, environmental and toxic tort litigation, personal injury, and products liability.
"We are excited to have Drew joining our San Diego office and Construction Practice Group," said Kurt U. Campbell, Chief Real Estate Officer and Shareholder of Klinedinst. "His residential and commercial construction litigation experience will be incredibly valuable to our clients and firm."
Mr. Londerholm earned his Juris Doctor from University of the Pacific, McGeorge School of Law with a concentration in Environmental Law. He earned his undergraduate degree from University of California, Los Angeles.
Klinedinst PC is pleased to welcome Mr. Londerholm to the firm. To learn more about Mr. Londerholm, please visit:
https://klinedinstlaw.com/profiles/attorney/andrew-londerholm
About Klinedinst
Klinedinst has become the go-to firm for clients across California, across the West, and across the globe. Our litigators, trial attorneys, and transactional lawyers guide clients through every problem, finding solutions at every turn. The firm serves clients from offices in Los Angeles, Sacramento, San Diego, Santa Ana, and Seattle. Whether representing businesses in court, helping negotiate transactions, or handling matters in state, federal, or appellate courts, Klinedinst attorneys help get the job done.