Nadia P. Bermudez was a featured panelists at a webinar titled "Being Present, Visible, and Successful From Day 1." The virtual event was hosted by the Diversity Fellowship Program, which supports diversity in the legal field.
SAN DIEGO, CALIFORNIA — On June 23, 2020, Klinedinst's Nadia P. Bermudez presented at a special Diversity Fellowship Program event titled "Being Present, Visible, and Successful from Day 1: Navigating Your Way to Success."
The panel, which also featured Judge Tililsha Martin, was designed to help young attorneys find their footing in the early stages of their careers. The 65+ attendees included law students and new lawyers who were invited to ask the speakers questions about their career paths, building relationships, and personal experiences. Moderated by attorney Warren Den, the presentation covered topics including "standing out vs. sticking out," training opportunities, tone types, professionalism, biases, and more.
The Diversity Fellowship Program is a joint program of the San Diego County Bar Association (SDCBA) and Association of Corporate Counsel (ACC) San Diego Chapter. Created in response to the low number of diverse attorneys practicing law in San Diego County, the Program provides an opportunity for diverse, first-year law students to learn and develop skills necessary to be successful in law firm and corporate legal department environments. The Program also introduces law firms and corporate legal departments to qualified individuals who might not otherwise be considered.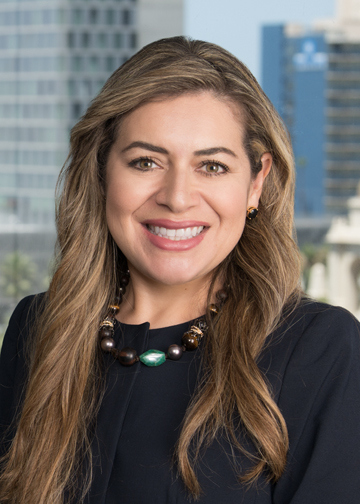 Ms. Bermudez is an active participant in diversity-focused organizations on the local, state, and national levels. She has served on the Hispanic National Bar Association (HNBA), where she was involved in their American Corporate Counsel Legal Executive Training Pilot Program, represented their Latina Commission, and was a Regional Representative. She served as the Vice President, President, Board of Directors member, and newsletter editor of the California La Raza Lawyers Association, and President of the San Diego La Raza Lawyers Association Scholarship Fund. Ms. Bermudez writes and speaks regularly topics including discrimination in the workplace.
Klinedinst congratulates Ms. Bermudez on being a featured speaker, and thanks her for the tireless efforts to increase diversity and support others. To learn more about the firm's diversity efforts, be sure to visit:
www.klinedinstlaw.com/diversity
About Klinedinst
Klinedinst has become the go-to firm for clients across California, across the West, and across the globe. Our litigators, trial attorneys, and transactional lawyers guide clients through every problem, finding solutions at every turn. The firm serves clients from offices in Irvine, Los Angeles, Sacramento, San Diego, and Seattle. Whether representing businesses in court, helping negotiate transactions, or handling matters in state, federal, or appellate courts, Klinedinst attorneys help to get the job done.