SAN DIEGO, CA – Klinedinst Shareholder Nadia P. Bermudez has been selected to serve on the San Diego Superior Court's Committee on the Elimination of Bias, a group devoted to providing equal access to justice for all.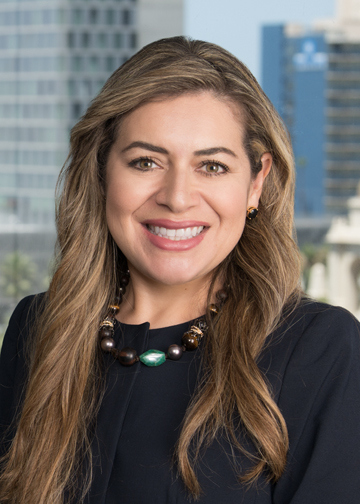 The Committee will seize opportunities to promote education, confront injustices, and alleviate racial disparities throughout the legal system. In this important role, Ms. Bermudez will aid in the development of procedural changes impacting the Superior Court's ability to recognize and eliminate bias, impacting all San Diego citizens.
The committee was formed by the San Diego Superior Court and is led by San Diego County Superior Court Judges Roderick Shelton and Paula Rosenstein. The creation of this committee will promote a courtroom environment that is free of bias, a major decision designed to ensure that courtroom proceedings are conducted in a manner that is fair and impartial. This includes the prohibiting of bias through the integrity and impartiality of individual judges and throughout the larger court system, including counsel, court personnel, witnesses, parties, jurors, or any other participants.
"It is an honor to be selected to serve on this committee," said Ms. Bermudez. "Promoting justice regardless of race, ethnicity, nationality, gender, gender identity, sexual orientation, religion, disability or socioeconomic status will help ensure equal procedure under the law for every single person in San Diego."
In 2019, Ms. Bermudez was appointed by Governor Gavin Newsom to serve on the Regional Judicial Selection Advisory Committee for the evaluation of judicial applicants. The same year, Ms. Bermudez was selected to serve as Chair of the Merit Selection Panel for the Southern District Court of California. She also served as Co-Chair of the Lawyer Representatives for the Southern District, completing her service in 2019.
Ms. Bermudez previously served as President of Lawyers Club of San Diego, as well as La Raza Lawyers Association. Due to her dedication to diversifying the practice of law, she received a Service Award for Diversity from the San Diego County Bar Association in 2015. Previously, she had served on the Board of Directors of the San Diego County Bar Association and as Vice President. In 2011, she was honored as a Top Young Attorney by the Hispanic National Bar Association.
Klinedinst PC congratulates Ms. Bermudez in her new role on the Committee on the Elimination of Bias. To learn about Ms. Bermudez and her achievements, please visit: https://klinedinstlaw.com/profiles/attorney/nadia-bermudez
About Klinedinst
Klinedinst has become the go-to firm for clients across California, across the West, and across the globe. Our litigators, trial attorneys, and transactional lawyers guide clients through every problem, finding solutions at every turn. The firm serves clients from offices in Irvine, Los Angeles, Sacramento, San Diego, and Seattle. Whether representing businesses in court, helping negotiate transactions, or handling matters in state, federal, or appellate courts, Klinedinst attorneys help to get the job done.