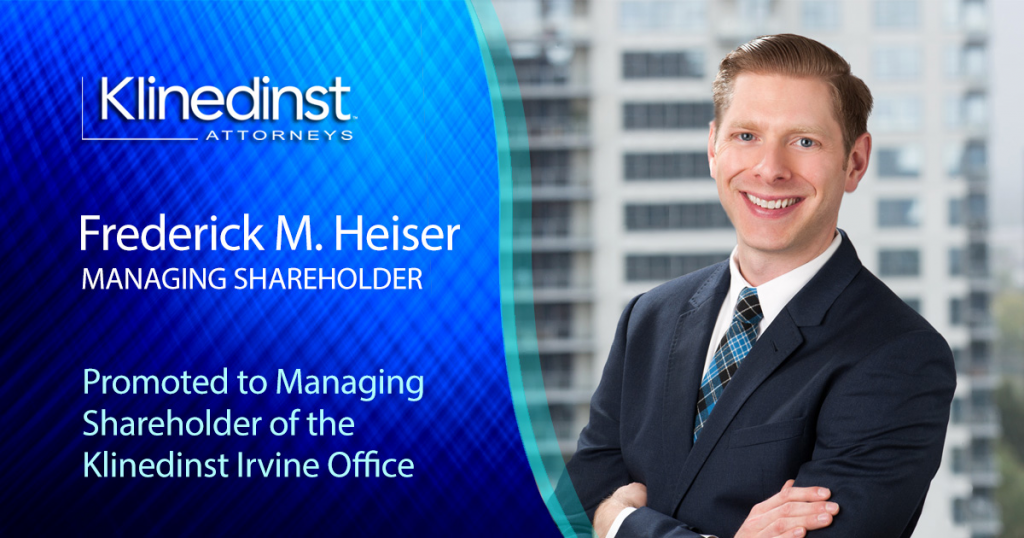 IRVINE, CALIFORNIA — Klinedinst PC is pleased to announce Frederick M. Heiser has been named Managing Shareholder of Klinedinst's Irvine office. Mr. Heiser takes over the role from Kevin Gramling, who will continue as Shareholder in the Irvine office.
Mr. Heiser focuses his practice on business and commercial litigation, commercial general liability, and employment. His clients include local entrepreneurs, small family businesses, and Fortune 500 companies.
Mr. Heiser is regularly called on by general counsel, business owners, and claims representatives to protect their interests and to provide hands-on, strategic, and efficient direction for complex civil cases. He has found success in retail defense, business litigation, employment law, and general liability matters.
"Fred has grown his practice and leadership ability exponentially during his time at Klinedinst, and has been instrumental in the incredible growth in our team," added Mr. Gramling, who founded the Orange County office and served as its Managing Shareholder for 20 years. "His positive and extremely respectful attitude is appreciated and respected by both clients and team members alike. His dedication, personality, temperament, and leadership skills will serve the Irvine office well for years to come."
Klinedinst's presence in Orange County recently expanded into new offices in Irvine's Park Plaza. Now leading a roster of 12 attorneys, Hesier has taken on the crucial role of continuing Klinedinst's culture, relationship management, and commitment to individual growth, both personally and professionally, allowing attorneys to best serve clientele.
Heiser often speaks and presents on matters of retail and hospitality litigation, and partners with companies to strategically develop policies and procedures to minimize their liability risks. As a member of the USLAW Network, Defense Research Institute (DRI), and Claims and Litigation Management Alliance (CLM), Heiser advises industry leaders on a broad range of legal topics.
Heiser earned his JD from Washington and Lee (W&L) School of Law in 2004. He also earned his bachelor's from W&L, graduating magma cum laude in 2001. He is a former President of Washington and Lee University's Los Angeles Alumni Chapter and remains an active member of the Chapter in Los Angeles and Orange County.
Even though he joined the firm three years ago, Mr. Heiser is no stranger to the Klinedinst history and culture. He originally joined the firm back in 2004, becoming one of the newest associates in the Los Angeles office. He left to pursue other opportunities but ended up re-joining the firm ten years later in 2017 as Counsel. He steps into the role of Managing Shareholder as Kevin Gramling, who held the position for 20 years, concentrates on expanding his trial practice which takes him throughout the Western states.
"The Klinedinst leadership team, especially Kevin Gramling, has built this office into something incredibly special. Kevin has left some very big shoes to fill," said Heiser. "I couldn't be more excited about taking on this new role and am grateful for everybody's confidence in me. We have such a talented team and I look forward to many great times ahead."
Klinedinst PC congratulates Mr. Heiser in his new role as Managing Shareholder of the Irvine office. More information on Mr. Heiser can be viewed at: www.frederickheiser.com
About Klinedinst
Klinedinst has become the go-to firm for clients across California, across the West, and across the globe. Our litigators, trial attorneys, and transactional lawyers guide clients through every problem, finding solutions at every turn. The firm serves clients from offices in Irvine, Los Angeles, Sacramento, San Diego, and Seattle. Whether representing businesses in court, helping negotiate transactions, or handling matters in state, federal, or appellate courts, Klinedinst attorneys help to get the job done.