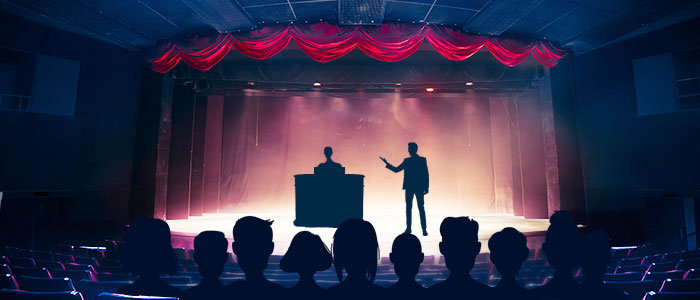 The following analysis is provided by Klinedinst Senior Counsel Phillip E. Stephan, Associate Sasha J. Glenn, and Associate Melissa Corona.
The adage that trial is theatre cannot be overused. While Depp v. Heard captivated several commentators, the outcome boiled down to how each side chose to present the people and evidence that would support their case.
Winning a libel case for a public figure is a difficult task, as the plaintiff (i.,e., the person suing) must not only prove untrue statements were published, but also that the person making the libelous statements had actual malice in doing so. Mr. Depp's legal team presented several visual and auditory pieces of unique evidence, staged in a way to maximize the impact of Mr. Depp's testimony and of the witnesses offered in support of his case.
Ms. Heard's defense relied on her ability to convince the jury that she told the truth about Mr. Depp, although Mr. Depp needed to prove more than Ms. Heard simply not telling the truth. Credibility was the central challenge at stake. Therefore, each side had to make tactical decisions about how to prove credibility – would you choose to primarily argue on your tendency of truthfulness, or your opponent's lack of credibility?
Strategic Deployment of Evidence
Mr. Depp's presentation of evidence prominently featured visuals to engage the jury, including several that would be difficult to forget. Mr. Depp's team slowly chipped away at Ms. Heard's credibility as the case developed. Initial evidence concerned physical altercations between Ms. Heard and Mr. Depp, ranging from scratches to Mr. Depp's face to a mini-trial concerning Mr. Depp's finger injury. The contentions regarding the finger injury even involved experts, which effectively turned the issue of Mr. Depp's finger into a microcosm of credibility. Ms. Heard claimed Mr. Depp may have injured his finger by smashing a vintage wall phone to pieces. Her credibility on the incident was dismantled as she presented photos of the scene and none included any indication of the phone. Compounding against Ms. Heard's credibility, Mr. Depp's rebuttal witness who testified about visiting the scene on the day of the incident stated he saw no such phone or even remnants of it, driving another hole in Ms. Heard's account of the incident. Mr. Depp presented testimony concerning Ms. Heard putting human fecal matter in his bed – this is unique evidence that is not likely to be found elsewhere, going directly to Ms. Heard's credibility. Mr. Depp also used expert testimony to show that any visuals Ms. Heard would try to use were not worthy of trust and strategically deployed audio evidence to support his account of Ms. Heard's true character.
Mr. Depp prominently featured an audio clip, in which Ms. Heard stated: "Tell the world, Johnny. Tell them, 'I Johnny Depp … am a victim of domestic violence,' … and see how many people believe or side with you." This evidence could have been used at any time – in the chronological quantum of when it was recorded, in cross-examination of Ms. Heard, or as the first piece of evidence during Mr. Depp's testimony. Mr. Depp's team chose to use this evidence as the ending to Mr. Depp's story, which gave the evidence greater impact by showing the jury that Ms. Heard seems to imply that no one could ever believe Mr. Depp could be domestically abused. Before Ms. Heard had the chance to say one word, the jury was primed to believe that Ms. Heard had affirmatively stated that facts and evidence did not matter, since no one would ever believe Mr. Depp as a matter of principle.
A trial attorney will always tell you that successful trials must have hooks that will stay with the jury (anyone remember "If it doesn't fit, you must acquit"?). Mr. Depp's team's use of the audio clip effectively had the same impact.
Rebuttal Witnesses
For every argument Ms. Heard offered, Mr. Depp offered a witness to directly and specifically rebut the testimony, utilizing several witnesses in smaller segments of testimony rather than one witness for a long period of time. Ms. Heard's testimony told the story that she was an up and coming figure in Hollywood, and presented evidence attempting to bolster her profile and what her future would have held but for Mr. Depp's conduct. After Ms. Heard's testimony concluded, Mr. Depp presented several witnesses. Mr. Depp's witnesses in rebuttal were structured to address the fundamental issues of who was more believable concerning domestic violence, while concisely countering contentions that Mr. Depp negatively affected Ms. Heard's career and effectively drawing attention away from those arguments.
First, in response to Ms. Heard's sister's claim that, after Mr. Depp's finger was severed, Mr. Depp punched Ms. Heard repeatedly, Mr. Depp called Dr. David Kulber, a treating physician that worked on Mr. Depp's hand and placed a cast. "He could have hit someone, but then it probably would have injured [or] damaged the cast," Kulber averred. When asked if he observed damages to the cast, he said, "I don't recall. Nothing that comes to mind." Dr. Kulber testified that Mr. Depp could not have formed a fist with the cast on. Several of Mr. Depp's rebuttal witnesses presented testimony compounding against Ms. Heard's credibility regarding domestic violence, stating they never saw any marks or bruises on Ms. Heard. These witness included a range of individuals from friends to law enforcement.
Mr. Depp also produced two witnesses to rebut Ms. Heard's presentation of her stature in Hollywood. Ms. Heard claimed that Mr. Depp's statements led to diminishment of her role in "Aquaman 2," and even a potential recast where she would be removed from her role. However, the President of the studio responsible for "Aquaman 2" refuted that argument, noting that Ms. Heard was neither reduced nor recast, and any recasting consideration was because the studio felt Ms. Heard lacked chemistry with the main star of the film. Mr. Depp also attacked the projection of Ms. Heard's career earnings by an entertainment consultant – instead of only attacking the numbers underlying the projection, Mr. Depp's rebuttal witnesses focused on the actors Ms. Heard said constituted her peer group.
Mr. Depp also presented a forensic psychiatrist, who told the jury that Ms. Heard's psychiatrist had violated ethical principles governing when psychiatric professionals may voice opinions, harping on the fact that Ms. Heard's psychiatric witness did not personally examine Mr. Depp and had no authority to comment on Mr. Depp's mental health.
Mr. Depp's structuring of witnesses and evidence into small, concise segments kept the jury engaged and the issues clear. This allowed the jury to observe for themselves the compounding effect of the testimony presented against Ms. Heard's credibility. Further, by avoiding longer segments of testimony, the jury had less time to evaluate a witness's credibility and was more likely to take their testimony at face value.
It is no secret that legal proceedings can be tedious; the days are long and full of legalese. By breaking the trial into acts—much like a theatrical play— Mr. Depp's team even kept the people at home engaged, helping Mr. Depp's reputation along the way. The small segments and use of witnesses helped Mr. Depp's team attack Ms. Heard's claims and highlight Mr. Depp's known qualities that made him rise to fame, all in one fell swoop.
The theatrical unfolding of this case underscores that knowledge of witnesses and your best evidence serves as the foundation of your trial, which you should be litigating towards from the beginning of your case. It is important to identify especially unique and or damaging evidence early, disclose it to opposing counsel to avoid any claims of undue prejudice or admissibility issues, and then consider when to deploy the evidence to maximize impact with the jury at time of trial. Disclosure of such evidence does not diminish the impact of your evidence, as the goal of discovery is to eliminate surprise at time of trial; in fact, your disclosure may help settle matters, should that be your goal.
About the Authors
Phillip E. Stephan is a member of Klinedinst's Professional Liability, Employment, and Business and Commercial Litigation practice groups. Prior to joining Klinedinst, Mr. Stephan focused on professional liability, complex business litigation, class actions, antitrust, and unfair competition. Mr. Stephan has also represented startup and established companies, providing counsel regarding corporate governance, capital acquisition, contract drafting, strategic management, litigation, risk management, and intellectual property. Mr. Stephan can be reached at PStephan@KlinedinstLaw.com.
Sasha J. Glenn is an associate attorney in Klinedinst's Seattle office where she handles a wide array of practice areas including, in part, business and commercial litigation. Ms. Glenn has extensive complex civil litigation experience. In her first years of practice, Ms. Glenn worked as part of a trial team handling cases in personal injury, employment law, and civil rights. Ms. Glenn also has experience with insurance law, intellectual property, business transactions, and alternative dispute resolution. She is a determined advocate and has a passion for finding new ways to look at legal challenges. Ms. Glenn can be reached at SGlenn@KlinedinstLaw.com.
Melissa Corona is an associate in the Los Angeles office of Klinedinst PC. As part of her practice, she works with clients in a variety of business and commercial litigation. Ms. Corona can be reached at MCorona@KlinedinstLaw.com.
Please Note
This article does not intend to offer any comment on Ms. Heard or Mr. Depp personally, but only to discuss the tactics used during trial. This information does not constitute legal advice. The use of information from this article does not create any type of attorney-client relationship.
About Klinedinst
Klinedinst is the go-to firm for clients looking for litigation, trial experience, transactional representation, and legal counsel. The firm's offices in Los Angeles, Sacramento, San Diego, Irvine, and Seattle service the entire West Coast. What sets Klinedinst apart is the relationship our attorneys foster with each and every client. Klinedinst lawyers are indispensable strategic partners to business leaders, helping to achieve business objectives and create proactive solutions to resolve the many legal challenges that businesses are confronted with every day. Whether vigorously advocating for business clients in court, or guiding business transactions and negotiations, Klinedinst is the trusted legal advisor to have by your side.