SAN DIEGO – Klinedinst PC and USLAW partnered to organize a dinner event at the La Jolla Beach & Tennis Club during the American Trucking Association's (ATA) Forum for Motor Carrier General Counsel. This conference took place July 19-22, 2015.
USLAW is an international organization composed of nearly 100 independent, full practice firms with roots in civil litigation, including more than 6,000 attorneys covering the United States, Canada, Latin America, Europe, Asia and Africa. Member firms and attorneys practice in all areas of law, including transportation litigation.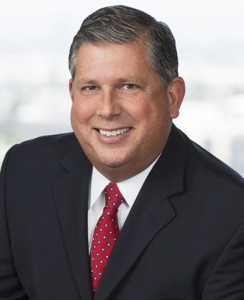 "It is always great to catch up with trucking companies and their counsel, and there is no better place to do that than on the beach in La Jolla" noted Kevin J. Gramling, a transportation attorney who manages Klinedinst's Santa Ana office. "We're very appreciative to our friends at USLAW Network for not only stepping up as sponsor of the ATA conference, but for taking the lead in making this after-hours event such a huge success."
Mr. Gramling is a member of the firm's Transportation Practice Group, representing transportation companies in catastrophic accidents, property damage, and employment litigation throughout California and the US.
The host organization, the ATA, is a network of professionals in the trucking industry, including many shipping companies as well as attorneys that represent them. Events like this are organized by the ATA to promote networking, organize interests, and disseminate new information.
Klinedinst was proud to sponsor this USLAW Dinner for the ATA Forum.  To learn more about USLAW, please visit their website:
About Klinedinst
Klinedinst has become the go-to firm for clients across California, across the West, and across the globe. Our litigators, trial attorneys, and transactional lawyers guide clients through every problem, finding solutions at every turn. The firm serves clients from offices in Los Angeles, Sacramento, San Diego, Santa Ana, and Seattle. Whether representing businesses in court, helping negotiate transactions, or handling matters in state, federal, or appellate courts, Klinedinst attorneys help get the job done.