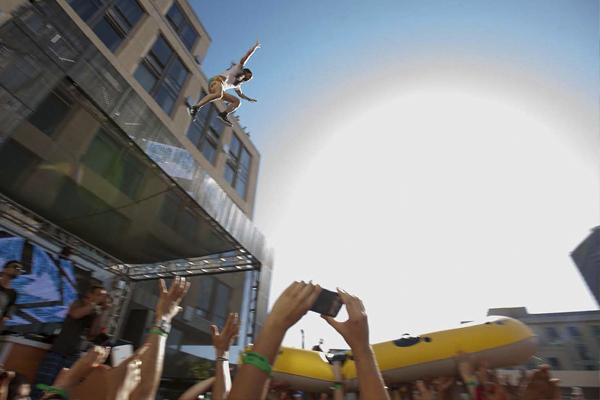 In a high-profile trial, the Hard Rock Hotel was sued by a concertgoer injured when celebrity DJ Steve Aoki launched himself into the crowd at a 2012 concert. While the plaintiff sought $10.7 million in damages, Klinedinst shareholders Kevin Gramling and Ernest Weiss were able to prove to a California jury that the hotel could not have predicted Aoki's actions, and was not responsible for the plaintiff's injuries.
SAN DIEGO, CALIFORNIA – Two Klinedinst shareholders, Kevin J. Gramling and Ernest L. Weiss, have won a jury trial in a high profile case filed by a woman who, in court filings, claimed injuries suffered when a celebrity DJ climbed the stage truss 20 feet into the air at a concert and stage-dived into the crowd.
Case documents, filed in San Diego Superior Court, describe the events that took place when Hard Rock Hotel San Diego hosted DJ Steve Aoki in its outdoor concert venue in 2012.  Security footage showed Aoki launching an inflatable boat into the crowd. He then climbed up a truss around the stage, and proceeded to jump from about 15 feet into the raft. The plaintiff was under the inflatable raft when Aoki landed in the raft, and she alleged that the impact from Aoki left her with a broken neck, herniated cervical discs, and a traumatic brain injury.
After the incident, the plaintiff filed suit against Hard Rock Hotel for negligence. In her filings, plaintiff was seeking in excess of $10.7 million in future medical costs and damages, including pain and suffering. She also sued Aoki, who settled out of court for an undisclosed amount. On the eve of trial, and with her case against Aoki settled, the plaintiff made a $1 million trial demand, which was rejected by the defense.
In case transcripts and video taken in court, Mr. Gramling and Mr. Weiss presented a vigorous defense on behalf of the Hard Rock Hotel against the allegations. Throughout the course of the trial, they argued that the hotel had no prior warning or notice that Aoki would perform the stunt. The plaintiff argued that the hotel should have known that Aoki may perform such a stunt (based on past concerts).
Court records show that Gramling and Weiss argued the hotel should not shoulder the blame for actions of others. In addition, they were able to demonstrate that Aoki's decision to even try the jump was made during the show, about five minutes before he actually jumped, and that Hard Rock Hotel had no advance warning of the dangerous stunt. Through medical experts, they also argued that the plaintiff's injuries were not as severe as alleged, including her claim of cognitive brain dysfunction and traumatic cervical disc herniation. The defense argued that many of her expert witnesses had been brought in with the express intent of building a large dollar verdict.
The jury ended up deliberating for about 35 minutes before returning a verdict of 10-2 in favor of the defense.
"In every way, this is an incredible result for our clients by Kevin and Ernie," said John Klinedinst, Founder and CEO of Klinedinst PC. "They presented a vigorous defense, and were able to cut through the emotion and expert witness testimony to clearly and convincingly advocate on behalf of our client. We thank Hard Rock Hotel for its trust during this high-exposure case, and congratulate Kevin and Ernie on this terrific result."
Both shareholders for the defense are experienced trial lawyers. Mr. Gramling, who manages the firm's Santa Ana office, secured a defense verdict in the first mold wrongful death case to ever go to trial.  He is a member of the American Board of Trial Advocates (ABOTA), an invitation-only organization of elite trial lawyers who demonstrate the highest levels of integrity and skill. Mr. Weiss has prevailed at trial in a number of complex cases, including those involving traumatic brain injury and premises liability.
"With our client facing an eight figure lawsuit, a jury agreed that our client met the standard of care," Gramling said. "Hard Rock Hotel should never have been brought into this matter in the first place, and we thank the jury for seeing this case through to its proper conclusion."
The case is Hickman v. Hard Rock Hotel San Diego (San Diego Superior Court, Case No. 37-2013-00064985-CU-PO-CTL). Plaintiff was represented by lead counsel John Gomez, with assistance from Jeremiah Lowe and Jessica Sizemore of Gomez Trial Attorneys.
Klinedinst congratulates Mr. Gramling and Mr. Weiss for their success in this high value, high-profile case.  For more information on Mr. Gramling and his qualifications, please visit:
And for more information on Mr. Weiss, click on:
About Klinedinst
Klinedinst has become the go-to firm for clients across California, across the West, and across the globe. Our litigators, trial attorneys, and transactional lawyers guide clients through every problem, finding solutions at every turn. The firm serves clients from offices in Los Angeles, Sacramento, San Diego, Santa Ana, and Seattle. Whether representing businesses in court, helping negotiate transactions, or handling matters in state, federal, or appellate courts, Klinedinst attorneys help get the job done.