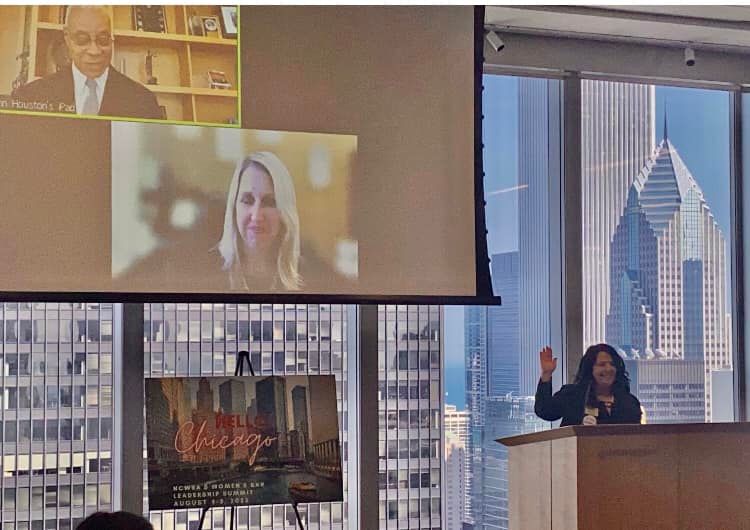 CHICAGO, ILLINOIS – Klinedinst PC is proud to announce that Shareholder Teresa M. Beck has been elected as the 2022-2023 President of the National Conference of Women's Bar Associations (NCWBA).

NCWBA was founded in 1980 when a handful of independent women's bar associations across the county banded together to form a group that would promote leadership, idea sharing, and the advancement of women in the legal profession. Forty-two years after its founding, NCWBA is one of the most respected women's bar associations in the country, with its members representing over 35,000 women lawyers from more than 50 women's bar organizations.
Ms. Beck is a strong advocate for women in law, improving work/life management, and equality initiatives. While serving on the board of the NCWBA, Ms. Beck co-created GOOD Guys, a curriculum designed to encourage and engage male leadership in diversity, equity, incision, and belonging (DEIB) initiatives. The nationally-recognized program strives to ensure that businesses are fully participating in and benefitting from the financial and other rewards of increasing DEIB in the workplace.
"We are very proud that Teresa was elected by her peers to be the President of the NCWBA," said Heather L. Rosing, Klinedinst CEO and President. "Teresa's passion for advancing women in the profession of law is remarkable, and she will be a tremendous leader of NCWBA."
As President, Ms. Beck plans on growing the GOOD Guys program, in addition to launching two new toolkits. One of the toolkits is designed for law schools to better prepare underrepresented groups for the legal profession, while the other is designed to provide tools for women's bar associations to ensure they are incorporating DEIB into their organizations' structure, practices, and programming, and to create a sense of belonging for all women attorneys.
Ms. Beck is the Managing Shareholder of Arizona and Nevada, and Klinedinst's DEIB Committee's Co-Chair. In her practice, Ms. Beck represents clients in employment-related litigation, outside general counsel services, personal injury defense, construction matters, contracts. and civil litigation of all types.
Klinedinst congratulates Ms. Beck on becoming President of the NCWBA, and looks forward to supporting the NCWBA in years to come. For more information on Ms. Beck, please review her biography at https://klinedinstlaw.com/profiles/attorney/teresa-beck.
About Klinedinst
Klinedinst is the go-to firm for clients looking for litigation, trial experience, transactional representation, and legal counsel. The firm's offices in Irvine, Los Angeles, Sacramento, San Diego, and Seattle service clients across the West, handling matters in California, Washington, Oregon, Nevada, and Arizona. What sets Klinedinst apart is the relationship our attorneys foster with each and every client. Klinedinst lawyers are indispensable strategic partners to business leaders, helping to achieve business objectives and create proactive solutions to resolve the many legal challenges that businesses are confronted with every day. Whether vigorously advocating for business clients in court, or guiding business transactions and negotiations, Klinedinst is the trusted legal advisor to have by your side.