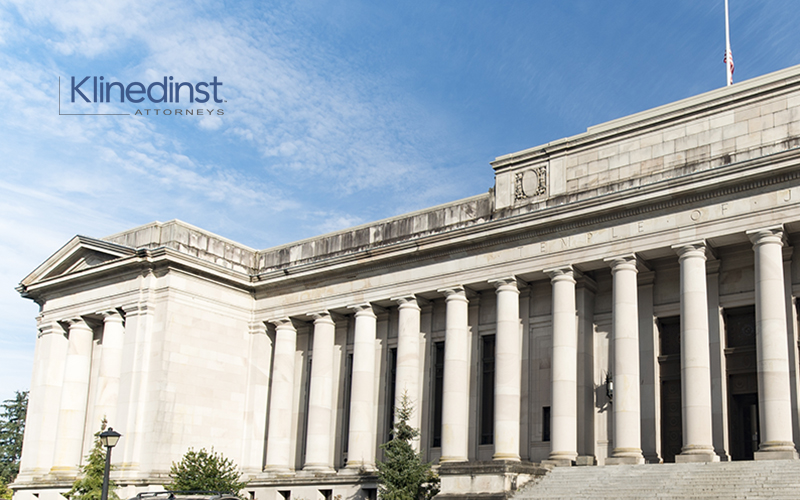 In the midst of the #MeToo revolution, the Washington Supreme Court has significantly increased the potential exposure for employers for their employees' sexual harassment. While prior law focused on the impacts of harassment to other employees, the Court held that employers can now be strictly liable for sexual harassment towards customers in places of public accommodation. And this liability extends even to non-supervisory employees. In Floeting v. Group Health Cooperative, the 7-2 majority allowed a claim pursuant to Washington's Law Against Discrimination ("WLAD") to proceed on a theory of direct liability on employer Group Health Cooperative for the actions of a nonsupervisory employee for sexual harassment claims.
A Group Health Employee Allegedly Harasses a Patient, and the Patient Brings Suit Against Group Health
A Group Health patient told Group Health that one of its employees had been sexually harassing him for several months. The patient revealed that the non-supervisory employee had made sexually inappropriate statements and gestures to him, despite numerous requests to stop. In response, Group Health conducted an investigation and terminated the employee a few weeks later.
Nearly three years later, the patient sued Group Health on the theory that WLAD provides for a right against sexual harassment by an employee in a place of public of accommodation. The trial court granted summary judgment in Group Health's favor after Group Health argued that the workplace sexual harassment doctrines control (where the employer must have known or should have known about the employee's conduct to be liable). This was consistent with the development of the law at the time of the decision.
However, the Court of Appeals reversed and applied WLAD to claims of sexual harassment in places of public accommodations as between businesses and its patrons, and held that WLAD imposed direct liability on employers regardless of the employers' knowledge of such actions.
The Supreme Court Finds that Employee Harassment of a Patient Could Give Rise to Liability
The Supreme Court upheld the Court of Appeal's extension of WLAD to sexual harassment claims and strict liability, even as applied to customers. The majority reasoned that because the Legislature intended WLAD to protect "full enjoyment" of services in public accommodations, and to prevent the deprivation of personal dignity, a requirement that employers must or should have known about the offending employee's conduct would significantly undermine this intent because it would result in an evasion of liability. It further reasoned that WLAD did not prevent two different standards for sexual harassment claims: the newly-created strict liability for employers for sexual harassment claims as between employees and business patrons, and the well-established negligent liability for employers for sexual harassment claims as between employees. Finally, the majority reasoned that imposing strict liability would incentivize employers to "try even harder to make sure that their employees are well-trained, are well supervised, and do not discriminate" and to "end discrimination as soon as possible" to limit potential damages.
In contrast, the strongly-worded dissent noted that Washington law has only applied strict liability when explicitly instructed to by the Legislature, which was not the case here. The dissent further reasoned that "[i]t makes no sense that a business proprietor enjoys more protection for instances of workplace discrimination where they are more likely to know of discrimination directed at other employees within the workplace than instances where a nonsupervisory employee discriminates against a fleeting patron." Thus, the dissent concluded that "[t]his is an unreasonable and illogical outcome that will have grave implications for how employers conduct themselves in the public accommodations context" and that "imposing strict liability will more likely result in management by lawsuit."
Employers Must Beware of the New Standard
It seems likely that the current political climate would give rise to a ruling favoring the potentially harassed, when balanced against an employer. Whether or not the Supreme Court went too far, as the dissent argued, employers cannot ignore the ruling. In light of the imposition of strict liability on employers, employers need to be ahead of harassment, through screening and training, and must identify and stop harassment immediately if found. This provides another opportunity to review policies and procedures to ensure that they provide as much protection as possible. Employers who have specific questions regarding their employee handbooks, training, or investigations consult with their counsel.
About Klinedinst
Klinedinst is the go-to firm for clients looking for litigation, trial experience, transactional representation, and legal counsel. The firm's offices in Los Angeles, Sacramento, San Diego, Santa Ana, and Seattle service the entire West Coast. What sets Klinedinst apart is the relationship our attorneys foster with each and every client. Klinedinst lawyers are indispensable strategic partners to business leaders, helping to achieve business objectives and create proactive solutions to resolve the many legal challenges that businesses are confronted with every day. Whether vigorously advocating for business clients in court, or guiding business transactions and negotiations, Klinedinst is the trusted legal advisor to have by your side.