As part of its commitment to the San Diego business community, Klinedinst has formally announced plans to expand its presence in downtown San Diego. The expanded space will occupy 29,000 square feet of Class A space at 501 W Broadway, with expected completion later this year.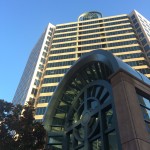 SAN DIEGO – Klinedinst has announced plans to  expand its law office in downtown San Diego, increasing its footprint to 29,000 SF.
The newly-expanded space will feature state-of-the-art conference facilities, improved access to multiple floors, and energy-saving fixtures throughout the office.
Klinedinst has been a longtime customer in the building at 501 W Broadway. Formerly known as the Koll Center, the building is a Class A office structure which has earned Energy Star and LEED GOLD certifications. Located steps away from both state and federal courthouses, the building also offers convenient access to the freeways, as well as Amtrak and San Diego Trolley stops.
This latest expansion reaffirms the law firm's commitment to San Diego's growing business community. "The downtown business landscape is poised for incredible growth," noted Art Moreau, Chief Operating Officer, "and we are pleased to be expanding our downtown footprint at 501 West Broadway."
Construction on the expanded space is expected to begin in Summer 2015, with expected completion by late 2015.
About Klinedinst
Klinedinst has become the go-to firm for clients across California, across the West, and across the globe. Our litigators, trial attorneys, and transactional lawyers guide clients through every problem, finding solutions at every turn. The firm serves clients from offices in Los Angeles, Sacramento, San Diego, Santa Ana, and Seattle. Whether representing businesses in court, helping negotiate transactions, or handling matters in state, federal, or appellate courts, Klinedinst attorneys help get the job done.