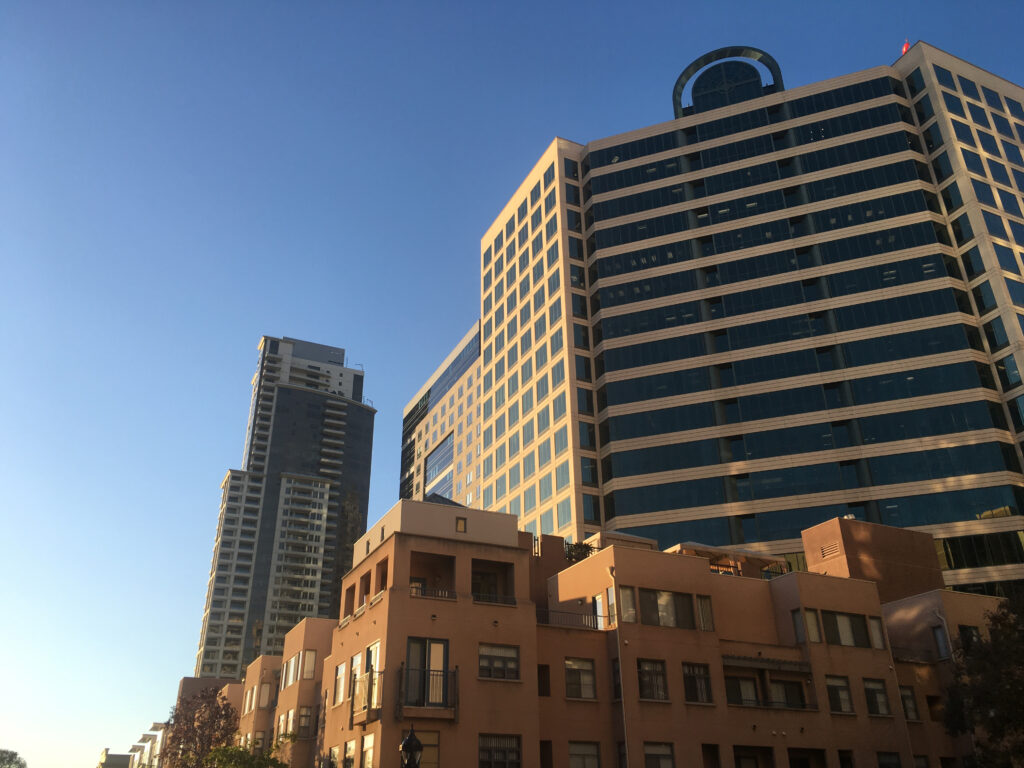 SAN DIEGO, CALIFORNIA – Klinedinst PC has announced plans to open a new San Diego office at 501 W Broadway, and will be moving its largest location into Suite 1100 on October 2, 2023.
This is the first move from its longtime office since the firm relocated to 501 W Broadway in 1991. Formerly known as the Koll Center, the 501 W Broadway building is a Class A office with both Energy Star and LEED GOLD certifications. The 21-story high-rise is blocks away from both state and federal courthouses, and offers convenient access to San Diego International Airport (SAN), the I-5 freeway, Amtrak rail service, and the San Diego Trolley.
Over the years, the firm expanded from a footprint that occupied half of a floor, to one that occupied nearly two floors. The firm had expanded in 2015 to a multi-floor space that included a dedicated conference center. However, the COVID-19 pandemic and the shift to remote and hybrid work schedules provided an opportunity for the firm to better utilize its space and re-imagine what the law firm of tomorrow could look like.
"We learned many lessons post-pandemic when we introduced our hybrid remote work policy," said Susan S. Nahama, Chief Operating Officer of Klinedinst PC. "Within a very short time frame, the usage of office space has changed dramatically, and our new suite brings all that learning together under one roof."
The ultra-modern office will consolidate working space from two floors into one. It will include an open floor plan, upgraded kitchen, new collaboration areas, enhanced security, flexible hoteling offices, and state-of-the-art conference rooms.
One mainstay that will not be making the move is the firm's law library, which was first installed 32 years ago. Already gone are the hundreds of legal volumes that took up valuable space. Instead, lawyers will have access to expanded on-demand digital resources that will save time and be accessible from any location.
Nahama added, "Our San Diego office will still be the largest in our network, and promises to provide an amazing experience for employees and clients visiting on-site. We cannot wait to introduce our team members, partners, and clients to the new space."
The Klinedinst San Diego office in Suite 1100 officially opens for business on Monday, October 2, 2023. Our official San Diego address will be:
KLINEDINST PC
501 W Broadway, Ste. 1100
San Diego, CA 92101-3575
Learn more at:
www.klinedinstlaw.com/san-diego
About Klinedinst
Klinedinst PC is the go-to firm for clients looking for litigation and trial experience, sophisticated transactional advice, and other solution-oriented legal counsel. Providing legal services across the West, our attorneys are dedicated to fostering trusted relationships with each and every client, to help them achieve their individual goals and objectives. Klinedinst lawyers strive to serve as true business partners, always at the ready to address the legal challenges that businesses are confronted with every day. Whether in court, at the board meeting, or otherwise, KPC is the trusted legal advisor to have by your side.