The business law firm has opened its doors in the Yamasaki-designed downtown building formerly known as the IBM Building. The new office is designed to support Klinedinst's hybrid workforce, and will include the latest technology to support conferencing, client engagement, and connectivity.
SEATTLE, WASHINGTON – Klinedinst has announced the official opening of its Seattle office in the 1200 Fifth building. The relocation to 1200 5th Avenue took place February 1, 2023, with the offices moving into the downtown landmark formerly known as the IBM Building.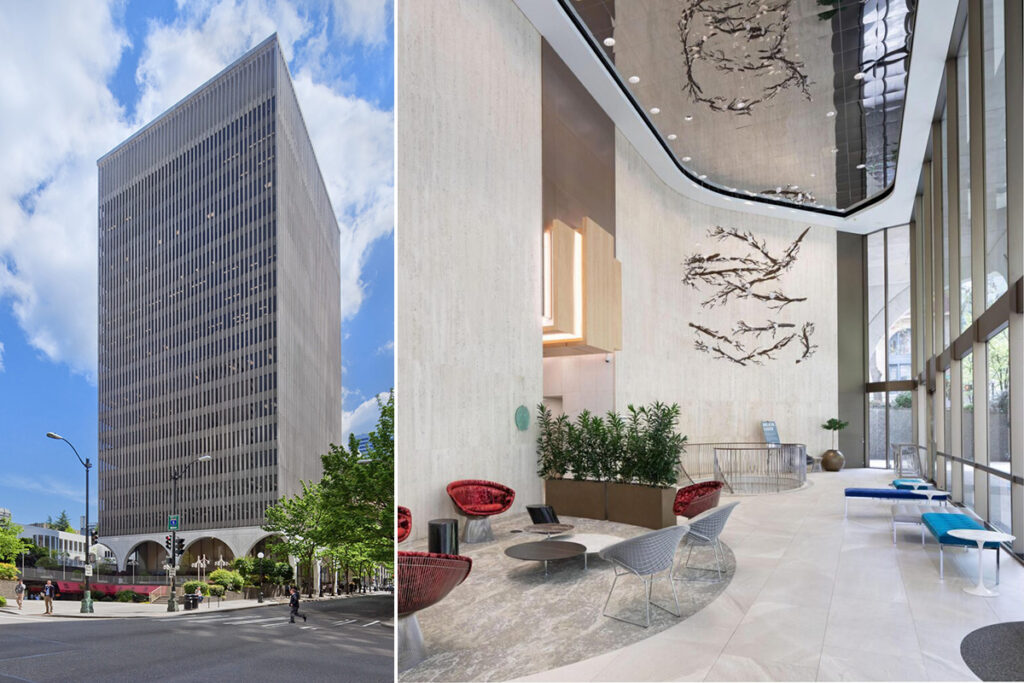 "On behalf of the firm, Klinedinst is pleased to be renewing our commitment to downtown, and we are excited to continue serving the Seattle business community from this legendary space," noted Gregor Hensrude, Managing Shareholder of Klinedinst Seattle. "From our all-new office on the 17th floor, we look forward to providing counseling, litigation, and transactional services to businesses across the entire Pacific Northwest."
1200 Fifth is one of downtown Seattle's most recognizable buildings. It is a 20-story office tower that was designed by legendary Seattle architect Minoru Yamasaki. Yamasaki also designed the neighboring Rainier Tower, but it was his work on New York's World Trade Center that brought international recognition to the Seattle-based architect. The building features 12 massive stone arches that envelope a spiral staircase, as well as a modern glass-enclosed lobby. The building holds LEED Gold® certification after undergoing a major renovation in 2020.
Klinedinst Seattle is located blocks from the United States District Court, Western District of Washington, as well as the King County Superior Court. It is also within 10 miles of Kirkland, Bellevue, and Seattle-Tacoma International Airport (SeaTac).
The new location features the latest in legal technology, including redundancy and secure connectivity to remote users and offices. It also includes beautiful views of downtown, as well a custom-designed space for Klinedinst team members. "We learned many valuable lessons during the pandemic, including how to efficiently optimize our space for hybrid environments," added Hensrude. "This custom space helps us turn those lessons into action, and is one of the first in our network to take into account the new environment law firms, as well as businesses in general, are working in. We look forward to introducing our partners and clients to this brand new space in the weeks and months ahead."
To learn more about the Klinedinst Seattle team and our new downtown location, please click here: klinedinstlaw.com/seattle
About Klinedinst
Klinedinst PC is the go-to firm for clients looking for litigation and trial experience, sophisticated transactional advice, and other solution-oriented legal counsel. Providing legal services across the West, our attorneys are dedicated to fostering trusted relationships with each and every client, to help them achieve their individual goals and objectives. Klinedinst lawyers strive to serve as true business partners, always at the ready to address the legal challenges that businesses are confronted with every day. Whether in court, at the board meeting, or otherwise, KPC is the trusted legal advisor to have by your side.