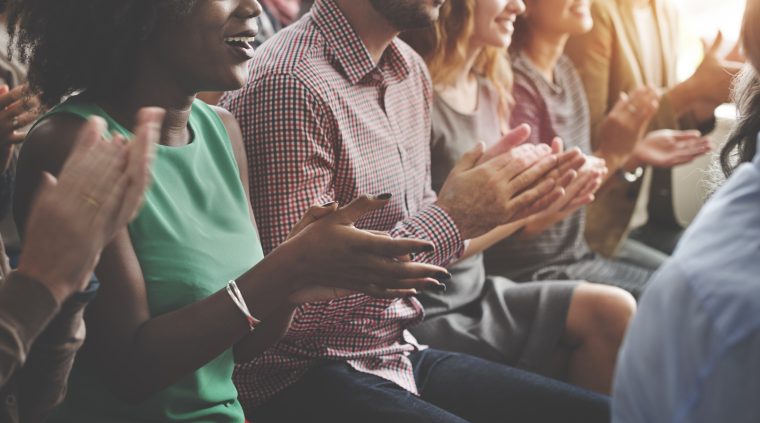 SAN DIEGO, CALIFORNIA – The Earl B. Gilliam Bar Foundation has honored Klinedinst PC and Heather L. Rosing with its 2016 Corporate Commitment to Diversity Award.
The Corporate Commitment to Diversity Award annually honors law firms for their continuing efforts to advance diversity in the legal community. Earl B. Gilliam Bar Foundation is a nonprofit organization dedicated to representing the interests of the African American legal community in San Diego County for over forty years. The Foundation provides scholarships and support for law students and African American legal professionals, and has done much to assist San Diego County attorneys in the advancement of their legal careers.
"In these times where so much negative rhetoric has been used to divide and exclude, it is vitally important that we come together to promote inclusion and support persons and groups that have been traditionally excluded and underrepresented," said Joy Utomi, President of the Foundation. "The Earl B. Gilliam Bar Foundation's Corporate Diversity award honors firms and companies that show a commitment to supporting the advancement of minorities and women in the legal profession. Klinedinst has shown that commitment and we are proud to recognize them at our upcoming annual dinner."
Klinedinst and its Diversity Committee have launched several initiatives and have actively participated in programming to help increase diversity in both the legal and business communities. The firm annually sponsors a diversity scholarship for a 1L law student through the California Bar Foundation (CBF).
On a local level, the firm is also an active supporter of the San Diego County Bar Association (SDCBA) Diversity Fellowship Program and the Sacramento County Bar (SCBA) Diversity Fellowship Program. In fact, Ms. Rosing launched the San Diego County Bar Association's Diversity Fellowship Program when she served as President from 2007-2008. The firm annually welcomes a 1L student from an underrepresented community in each jurisdiction to clerk at the firm during the summer.
"Klinedinst PC is proud and honored to support these amazing and very deserving students from across the state," said Ms. Rosing, who volunteers her time speaking to attorneys across the state on issues of ethics and elimination of bias within the legal profession. "These are our future leaders."
Klinedinst is a supporter of the SDCBA's Dialogue On Diversity, a program where industry leaders educate attendees on the importance of diversity in the legal community. Additionally, the firm was an original signatory to the Los Angeles County Bar Association's 2005 Statement of Diversity Goals and Principles and the SDCBA's 2007 Diversity Pledge. The firm promotes the rights of the disabled through its active participation with the Los Angeles-based Disability Rights Legal Center. Klinedinst proudly supports Women of Color in the Law, which provides opportunities and mentorship to law students in San Diego.
"We need both the lawyers and the judges in the state of California to be reflective of our communities, in order to effectively serve them," said Nadia Bermudez, former President of La Raza Lawyers and Lawyers Club of San Diego, as well as Senior Counsel at Klinedinst PC. "We are very thankful to the Earl B. Gilliam Bar Foundation for their advancement of underrepresented groups in the legal profession, and are so honored to receive this award."
Klinedinst was presented the award at the Foundation's 40th Annual Awards and Scholarship Dinner on November 12, 2016. To learn more about the Earl B. Gilliam Bar Association, please visit:
About Klinedinst
Klinedinst has become the go-to firm for clients across California, across the West, and across the globe. Our litigators, trial attorneys, and transactional lawyers guide clients through every problem, finding solutions at every turn. The firm serves clients from offices in Los Angeles, Sacramento, San Diego, Santa Ana, and Seattle. Whether representing businesses in court, helping negotiate transactions, or handling matters in state, federal, or appellate courts, Klinedinst attorneys help to get the job done.