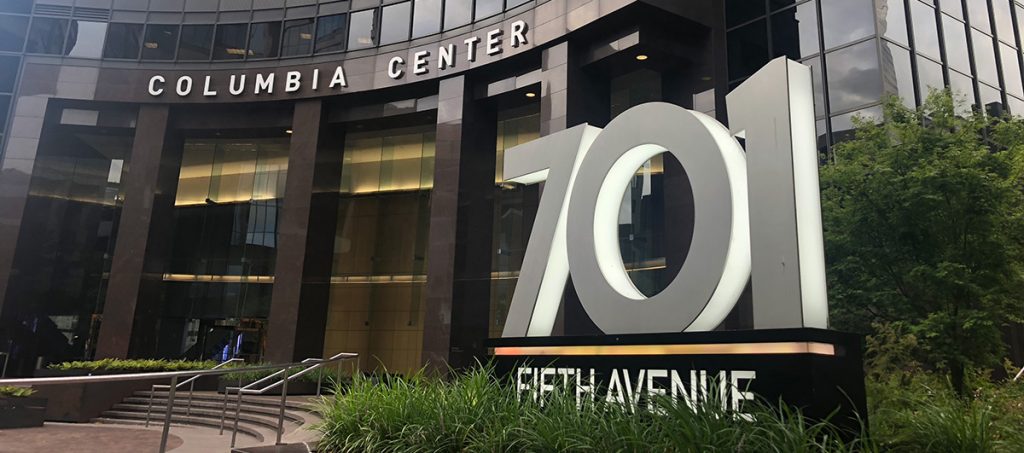 SEATTLE, WASHINGTON – Klinedinst is pleased to announce the expansion of the Seattle office in the Columbia Center, featuring new offices in the in the heart of downtown.
Located at 701 Fifth Avenue, the larger offices of Klinedinst PC provide space as Klinedinst continues to expand in the Pacific Northwest market.
"We are extremely proud of our expansion in the Seattle business community," noted Gregor Hensrude, Managing Shareholder of Klinedinst's Seattle operations. "Even during these uncertain times, new and established entities are moving into and thriving in Seattle who benefit from our legal support and guidance."
Klinedinst Seattle lawyers provide counseling, litigation, and transactional services to businesses across the state of Washington in tandem with the four California-based offices.
One of Seattle's most recognizable towers, Columbia Center is a 76-story office building in the center of Seattle's financial district. The tower has the tallest public viewing area on the West Coast and west of the Mississippi. The building holds LEED Platinum® certification and is ENERGY STAR® rated. It is currently the tallest LEED Platinum building in the United States.
The new Klinedinst location features state-of-the-art meeting facilities, 41st story views, and expanded production and reception areas. The new office is located within blocks of the United States District Court, Western District of Washington, as well as the King County Superior Court. It is also within 10 miles of Kirkland, Bellevue, and Seattle-Tacoma International Airport.
To learn more about the Klinedinst Seattle team and location, please click here: klinedinstlaw.com/seattle
About Klinedinst
Klinedinst is the go-to firm for clients looking for litigation, trial experience, transactional representation, and legal counsel. The firm's offices in Los Angeles, Sacramento, San Diego, Irvine, and Seattle service the entire West Coast. What sets Klinedinst apart is the relationship our attorneys foster with each and every client. Klinedinst lawyers are indispensable strategic partners to business leaders, helping to achieve business objectives and create proactive solutions to resolve the many legal challenges that businesses are confronted with every day. Whether vigorously advocating for business clients in court, or guiding business transactions and negotiations, Klinedinst is the trusted legal advisor to have by your side.