Klinedinst attorney Lindsey N. Casillas was featured presenter at the California Association of REALTORS® (CAR) Legal Affairs Forum on April 29, 2016. Ms. Casillas offered "must-know" tips for real estate professionals dealing with conflicts and confidentiality.
SACRAMENTO – Klinedinst attorney Lindsey N. Casillas was featured presenters at the California Association of REALTORS® (CAR) Legal Affairs Spring Forum on April 29, 2016 in Sacramento, CA.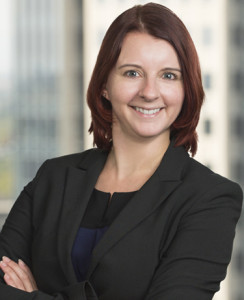 Ms. Casillas discussed hot topics in legal malpractice, with a focus on internal law firm communications and conflict waivers. They examined California Rules of Professional Conduct and American Bar Association Model Rules of Professional Conduct, and provided practical guidance on protecting privilege of internal communications. The presentation also covered specific conflicts to consider when drafting conflict waivers.
CAR is a professional real estate organization dedicated to promoting the real estate profession, through programs and services that enhance integrity and competence. Attendees at the Legal Affairs Spring Forum include in-house counsel for large brokerage firms, defense counsel, litigators who handle real estate disputes, local counsel, mediators, and risk managers who advise real estate brokers and firms.
Klinedinst commends Ms. Casillas for her role in educating the real estate community.
To learn more about Ms. Casillas, please visit:
http://klinedinstlaw.com/profiles/attorney/lindsey-casillas
About Klinedinst
Klinedinst has become the go-to firm for clients across California, across the West, and across the globe. Our litigators, trial attorneys, and transactional lawyers guide clients through every problem, finding solutions at every turn. The firm serves clients from offices in Los Angeles, Sacramento, San Diego, Santa Ana, and Seattle. Whether representing businesses in court, helping negotiate transactions, or handling matters in state, federal, or appellate courts, Klinedinst attorneys help get the job done.