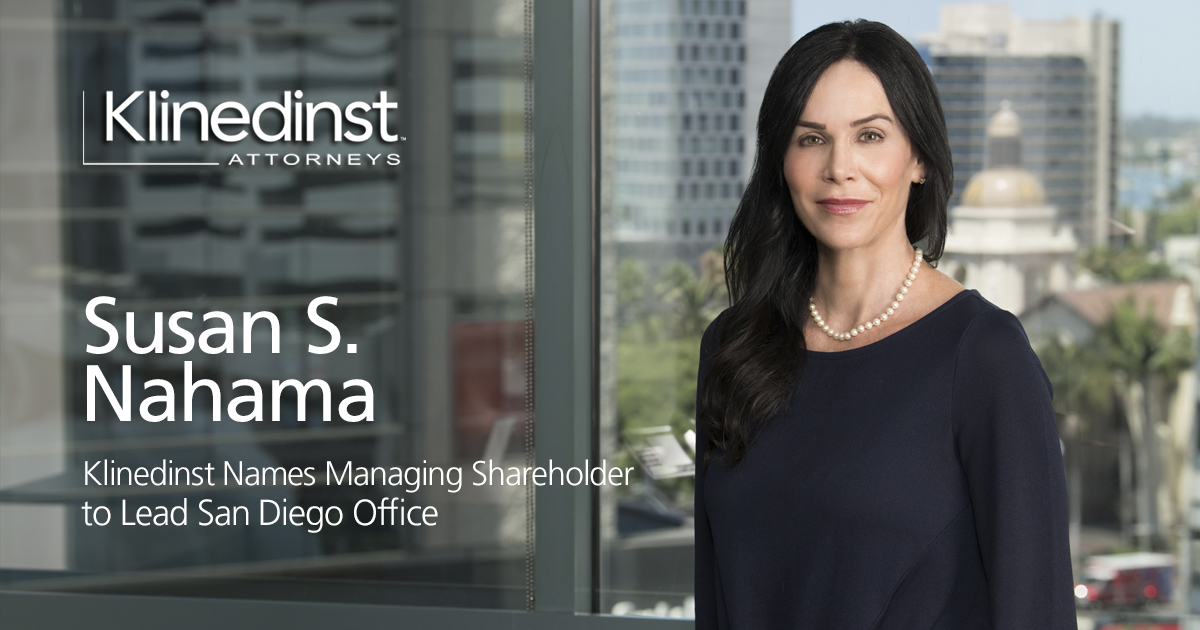 SAN DIEGO, CALIFORNIA – Klinedinst PC is pleased to announce the promotion of Susan S. Nahama to Managing Shareholder of Klinedinst's San Diego office.
Ms. Nahama focuses her practice on professional liability, including the defense of lawyers and accountants in pre-litigation and litigation matters. She also has two decades of experience in general liability, commercial and residential construction, insurance, business disputes, mold-related claims, product liability, and employment matters.
"Regardless of the type of matter, I absolutely believe in the importance of collaborating with clients to find practical solutions to their legal issues," said Nahama. "Transparency, relationship management, and consensus-building have always been hallmarks of my legal practice, and I look forward to bringing those same values to the management of our fantastic San Diego team."
Nahama first joined the firm in 1997 when it had only a single office and roughly a dozen attorneys. She was one of the few women lawyers at the firm, drawn to Klinedinst's focus on helping business clients while emphasizing the value of balance in work and personal growth.
Fast forward to today, and the firm has grown nearly six times in size. "And even after all of this growth," Nahama adds, "the firm still maintains its commitment to those core ideals, that individual growth, both personally and professionally, allows us to better serve our business clients."
A San Diego Native, Ms. Nahama received her undergraduate degree cum laude from the University of California at San Diego in 1992, and her Juris Doctor from the University of San Diego School of Law in 1995. She joined the firm in 1997, and was elevated to Shareholder only three years later in 2000.
Behind the scenes, Nahama has also played important roles in initiatives that have benefitted all of the firm's locations, from hiring and improved accounting procedures, to the rollout of the firm's eDiscovery department.
"Susan has been a cornerstone of our San Diego office for over two decades, and has seen firsthand the incredible growth going on in our region," added John D. Klinedinst, CEO and Founder of Klinedinst PC. "She is appreciated and respected by both clients and team members alike. We look forward to her fresh ideas, her enthusiasm, and her leadership as we continue to expand our services to clients in San Diego."
Nahama officially takes on the position effective September 1, 2018.
Klinedinst PC congratulates Ms. Nahama in her new role as Managing Shareholder of the San Diego office. More information on Ms. Nahama can be viewed at:
www.klinedinstlaw.com/profiles/attorney/susan-nahama
About Klinedinst
Klinedinst is the go-to firm for clients looking for litigation, trial experience, transactional representation, and legal counsel. The firm's offices in Los Angeles, Sacramento, San Diego, Santa Ana, and Seattle service the entire West Coast. What sets Klinedinst apart is the relationship our attorneys foster with each and every client. Klinedinst lawyers are indispensable strategic partners to business leaders, helping to achieve business objectives and create proactive solutions to resolve the many legal challenges that businesses are confronted with every day. Whether vigorously advocating for business clients in court, or guiding business transactions and negotiations, Klinedinst is the trusted legal advisor to have by your side.