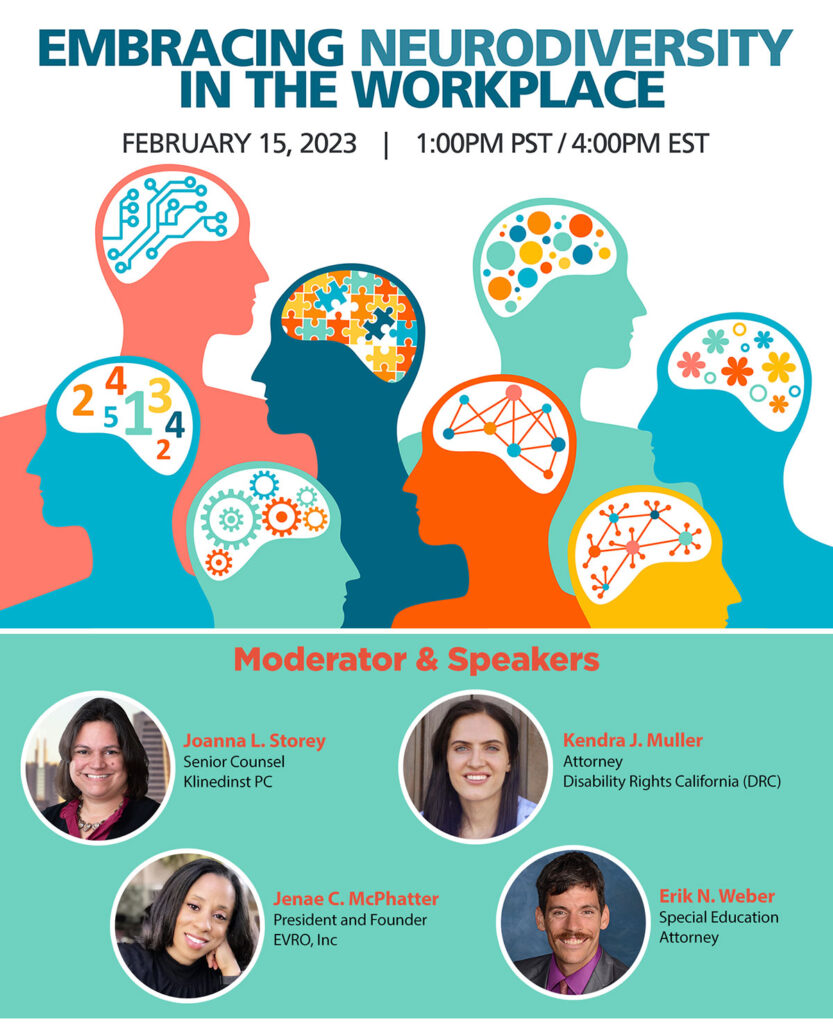 What is Neurodiversity?
In companies of all sizes, it is becoming more and more common to discuss diversity in outwardly visible ways. However, what about diversity that you cannot see?
All of us absorb information differently, with unique experiences that impact the way we think and react. Built on the foundation that there is no one "right" way of thinking, learning, and behaving, neurodiversity can help employers see differences in their employees as benefits, not deficits. Studying and embracing neurodiversity can help companies understand and appreciate the differences in the way people's brains work.
This virtual roundtable on neurodiversity featured a respected group of panelists, including:
Joanna Storey, Senior Counsel at Klinedinst PC
Kendra J. Muller, Attorney for Disability Rights California (DRC)
Jenae C. McPhatter, President and Founder ofEVRO, Inc
Erik N. Weber, Special Education Attorney
To watch the full panel discussion, please click here or watch below.
About Klinedinst 
Klinedinst PC is the go-to firm for clients looking for litigation and trial experience, sophisticated transactional advice, and other solution-oriented legal counsel. Providing legal services across the West, our attorneys are dedicated to fostering trusted relationships with each and every client, to help them achieve their individual goals and objectives. Klinedinst lawyers strive to serve as true business partners, always at the ready to address the legal challenges that businesses are confronted with every day. Whether in court, at the board meeting, or otherwise, KPC is the trusted legal advisor to have by your side.