San Diego Defense Lawyers recognized Klinedinst attorney Heather L. Rosing as its 2015 Defense Lawyer of the Year. The organization singled out Ms. Rosing for being a champion at defending her clients, as well as her work in the legal and business community. The honor was presented at the organization's thirty-first annual installation dinner in January, 2015.
SAN DIEGO – At its annual installation dinner, San Diego Defense Lawyers recognized Klinedinst Shareholder and CFO Heather L. Rosing as its 2015 Defense Lawyer of the Year.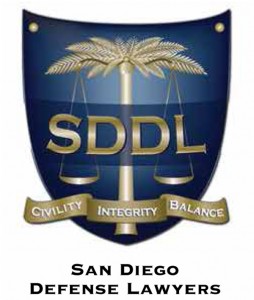 San Diego Defense Lawyers (SDDL) is the largest regional organization of lawyers engaged in the defense of civil litigants. For over three decades, SDDL has provided the defense community with an educational and social forum and a voice in the legal community. The organization encourages civility, integrity, and balance.
SDDL singled out Ms. Rosing for her skill in legal defense. Heather L. Rosing serves as the Chairperson of the Professional Liability Department, working with a team of Klinedinst lawyers across the state in the defense of professionals such as lawyers and accountants. Ms. Rosing has gained notice across the country for her experience and skill in litigating complex malpractice and fraud cases, and in advising in the areas of ethics and risk management.
"When it comes to legal defense, there is no better champion for her clients than Heather," noted Alexandra N. Selfridge, President of SDDL. "She really is a superhero. She does it all: serves her clients, helps manage a major law firm, gives back to the community, and makes it look so easy. On behalf of SDDL, we congratulate her on receiving this well-deserved recognition."
Ms. Rosing currently serves as Vice-President of the State Bar of California, and has been on the Bar's Board of Trustees since 2011. She is also a former President of the San Diego County Bar Association (SDCBA), and has held leadership positions in San Diego Volunteer Lawyer Program, Lawyers Club of San Diego, the ABA Standing Committee on Lawyers' Professional Liability. She also has been the driving force  behind a first-of-its-kind pro bono program to assist San Diego's active duty military personnel under the Servicemembers Civil Relief Act.
About Klinedinst
Klinedinst has become the go-to firm for clients across California, across the West, and across the globe. Our litigators, trial attorneys, and transactional lawyers guide clients through every problem, finding solutions at every turn. The firm serves clients from offices in Los Angeles, Sacramento, San Diego, Santa Ana, and Seattle. Whether representing businesses in court, helping negotiate transactions, or handling matters in state, federal, or appellate courts, Klinedinst attorneys help get the job done.