Klinedinst Shareholder Natalie Vance delivered an MCLE presentation entitled "Hot Topics in Legal Ethics" at the Sacramento County Bar Association Annual Meeting on December 7, 2015.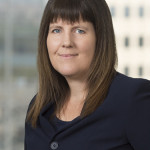 SACRAMENTO, CALIFORNIA – Natalie Vance presented a legal ethics MCLE presentation at the Sacramento Bar Association's Annual Meeting on December 7, 2015. The presentation focused on recent ethics opinions and case law governing professional conduct rules for attorneys and featured video vignettes dramatizing each of the topics presented. In addition to her live presentation, Ms. Vance's also posted online at the Sacramento County Bar website and available for members.
Each year, the SCBA hosts an MCLE presentation at its annual meeting to help attorneys stay on top of developments in the legal profession. Identifying the growing importance of professionalism in the practice of law, the SCBA selected "Hot Topics in Legal Ethics" as the subject of this year's MCLE.
Ms. Vance is the Managing Shareholder of Klinedinst PC Sacramento where her practice focuses on professional liability, employment and business litigation. Ms. Vance is a certified specialist in Legal Malpractice Law, and serves as the vice chair on the California State Bar Advisory Law Commission for the Legal Malpractice Law Specialization.
To learn more about the SCBA's Annual Meeting, or to register for future MCLE presentations, please visit:
About Klinedinst
Klinedinst has become the go-to firm for clients across California, across the West, and across the globe. Our litigators, trial attorneys, and transactional lawyers guide clients through every problem, finding solutions at every turn. The firm serves clients from offices in Los Angeles, Sacramento, San Diego, Santa Ana, and Seattle. Whether representing businesses in court, helping negotiate transactions, or handling matters in state, federal, or appellate courts, Klinedinst attorneys help get the job done.