LOS ANGELES, CALIFORNIA – The Daily Journal, one of California's oldest and most respected legal publications, has honored Klinedinst CEO and President Heather L. Rosing as one of its Top 100 Lawyers for 2022.
The Daily Journal has become the go-to news source for the California legal community since its founding in 1888, providing legal news, analysis on legislation, and updates on state and federal courts throughout California. Every year, Daily Journal gathers nominations, as well as the input of their own editors and reporters, to determine the very top 100 lawyers in California. With over 266,000 attorneys licensed by the State Bar of California, Daily Journal's Top 100 shines a spotlight on the very best and most influential lawyers.
Ms. Rosing is the Chair of the Professional Liability Department at Klinedinst PC. A Certified Specialist in Legal Malpractice by the State Bar of California Board of Legal Specialization, she defends lawyers, accountants, and other professionals and institutions. She provides ethics guidance and counsel to judges in disciplinary matters, and represents clients in matters involving with malpractice and fraud, director and officer (D&O) matters, and management liability. In addition, Ms. Rosing regularly provides advice to professionals in the ethics, risk management, and discipline defense.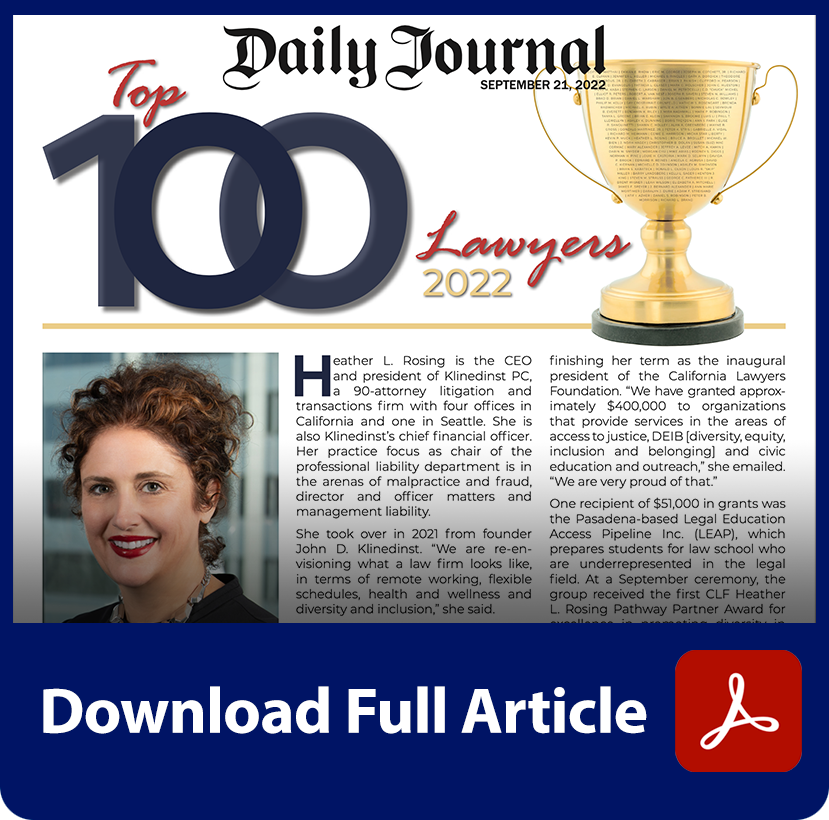 This year marks Ms. Rosing's fourth consecutive year being recognized by the publication for her highly distinguished professional liability practice. In its Top 100 article highlighting Ms. Rosing, the Daily Journal pointed to her outstanding practice, as well as her commitment to the legal community at large. Ms. Rosing is extremely active in the state and national bar and other pro bono activities, and received recognition for her inaugural presidencies of both the California Lawyers Foundation (CLF) and the 100,000+ member California Lawyers Association (CLA).

In her work with CLA, Ms. Rosing recognized the urgent need for diversity and equity in the profession, and has been committed to making Diversity, Equity, Inclusion and Belonging (DEIB) an integral part of her work. This passion helped spur the creation of CLF, which aims to provide grants to organizations that are making strides in the DEIB sphere. CLF honored her work by establishing the CLF Heather L. Rosing Pathway Partner Award, recognizing organizations that are firmly committed to encouraging diversity in the law. For the first time ever, Pasadena-based Legal Education Access Pipeline Inc. (LEAP) recently was awarded $51,000 in grants under the CLF Heather L. Rosing Pathway Partner Award..
"Heather's impact on the local, state, and national legal community has been unprecedented," said Arthur S. Moreau, Shareholder of Klinedinst PC. "I've had the good fortune of working closely with Heather since she began her legal career as an Associate at Klinedinst. From Day One, she has always been committed to helping others around her. Whether it be her clients, her co-workers, or her colleagues in the legal community, she gives so much of her talent and time to others. She has earned the respect of her peers, and deserves recognition as one of the Top 100 lawyers in California, if not the entire country."
Klinedinst congratulates Ms. Rosing on being honored as a Top 100 Lawyer. Read the full article here or on the Daily Journal website (subscription required).
About Klinedinst
Klinedinst is the go-to firm for clients looking for litigation, trial experience, transactional representation, and legal counsel. The firm's offices in Los Angeles, Sacramento, San Diego, Irvine, and Seattle service the entire West Coast. What sets Klinedinst apart is the relationship our attorneys foster with each and every client. Klinedinst lawyers are indispensable strategic partners to business leaders, helping to achieve business objectives and create proactive solutions to resolve the many legal challenges that businesses are confronted with every day. Whether vigorously advocating for business clients in court, or guiding business transactions and negotiations, Klinedinst is the trusted legal advisor to have by your side.