Klinedinst Shareholder and CFO Heather L. Rosing was recognized last night with the 2019 Witkin Award for Excellence in Public Service by the San Diego Law Library Justice Foundation. Ms. Rosing accepted the award at the annual Witkin Awards Dinner in honor of her tremendous impact in the community.
SAN DIEGO, CALIFORNIA– Heather L. Rosing was honored by the San Diego Law Library Justice Foundation with the 2019 Witkin Award for Excellence in Public Service.
The Witkin Awards are presented annually to honor members of the San Diego legal community for civic leadership and excellence in the practice of the law, adjudication of the law, legal education, and the advancement of access to justice.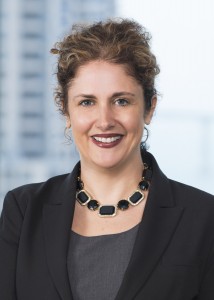 The Witkin Excellence in Public Service is presented annually to honor legal professionals who have a significant impact on their community through philanthropic, volunteer, pro-bono or advocacy efforts.  These leaders in the legal profession are honored for their social and humanitarian impact within their communities and the local economy.
"Heather Rosing is an amazing professional, a great human being, and one who comes along maybe once in a lifetime," said Hon. Victor E. Bianchini, Ret. "Not only is she the managing partner of a highly successful law firm, and not only is she one of the premier professional responsibility attorneys in the nation, but she manages to  find a way to effortlessly lead the statewide California Lawyers Association. Her public service is unmatched. To say that her selection for this award is well-deserved is an understatement."
The Witkin Awards are hosted by the San Diego Law Library Justice Foundation, a charitable trust whose sole mission is to aid in efforts to provide access to justice through resources and programs.
Ms. Rosing serves as Chief Financial Officer of Klinedinst, and is the Chairperson of the Professional Liability Department. She currently serves as the inaugural president of California Lawyers Association, as well as ChangeLawyers (formerly the California Bar Foundation). She has developed a nationwide reputation for her experience and skill in litigating complex malpractice and fraud cases, and in advising in the areas of ethics and risk management. Ms. Rosing donates much of her time to speaking and teaching on ethics, professionalism, and malpractice across the state and county.
Klinedinst congratulates Ms. Rosing on this special honor. To learn more about Ms. Rosing and her achievements, please click here:
klinedinstlaw.com/profiles/attorney/heather-rosing
About Klinedinst
Klinedinst has become the go-to firm for clients across California, across the West, and across the globe. Our litigators, trial attorneys, and transactional lawyers guide clients through every problem, finding solutions at every turn. The firm serves clients from offices in Los Angeles, Sacramento, San Diego, Santa Ana, and Seattle. Whether representing businesses in court, helping negotiate transactions, or handling matters in state, federal, or appellate courts, Klinedinst attorneys help get the job done.