Heather Rosing addressed young lawyers and professional liability insurance professionals at American Bar Association's LPL Young Professionals Program. During her speech at the national conference, Ms. Rosing discussed professional liability claims at the premier event.
SAN DIEGO, CALIFORNIA – Klinedinst Chief Operating Officer and Shareholder Heather L. Rosing served on a panel discussing cutting edge conflict issues surrounding professional liability litigation. Ms. Rosing presented at The American Bar Association's (ABA) "In Person Chicago" LPL Young Professionals Program, which took place on June 29, 2017 at the ABA's Headquarters in Chicago, Illinois.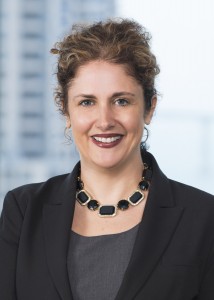 The "In Person Chicago" conference was hosted by The Committee's Lawyers' Professional Liability Consortium (LPLC), a group within the ABA. LPLC provides a place for practicing lawyers, insurance professionals, academics and risk managers to meet and exchange views, share knowledge, and learn the latest information about the law of lawyering.
The ABA is dedicated to serving its members, improving the profession, eliminating bias and enhancing diversity, and advancing the Rule of Law. The organization strives to promote members' professional growth, ethical conduct, and equal participation by all persons.
Ms. Rosing co-presented on a panel answering questions and exploring issues concerning conflicts and coverage in professional liability claims. The panel also offered practical, real-life tips on managing situations that both insurance companies and defense counsel face in litigation.
Ms. Rosing is Chairperson of the firm's Professional Liability Department, as well as the Legal Ethics and Law Firm Risk Management Department. Ms. Rosing defends complex malpractice and fraud cases, and regularly advises clients in the areas of ethics and risk management. She also serves as an expert witness on issues pertaining to ethics, standard of care, and attorney's fees issues. Ms. Rosing serves as President of the California Bar Foundation, which is dedicated to promoting diversity in the legal profession and assisting underserved communities, and is also a legal advisor to the Rules Revision Commission of the State Bar of California. A certified specialist in legal malpractice and a former member of the ABA Standing Committee on Lawyers' Professional Liability, Ms. Rosing donates much of her time to speaking and teaching free of charge on ethics and professionalism across the country.
Klinedinst congratulates Ms. Rosing on her appearance at ABA's LPL Young Professionals Program. To learn more on Ms. Rosing, click here:
About Klinedinst
Klinedinst has become the go-to firm for clients across California, across the West, and across the globe. Our litigators, trial attorneys, and transactional lawyers guide clients through every problem, finding solutions at every turn. The firm serves clients from offices in Los Angeles, Sacramento, San Diego, Santa Ana, and Seattle. Whether representing businesses in court, helping negotiate transactions, or handling matters in state, federal, or appellate courts, Klinedinst attorneys help get the job done.