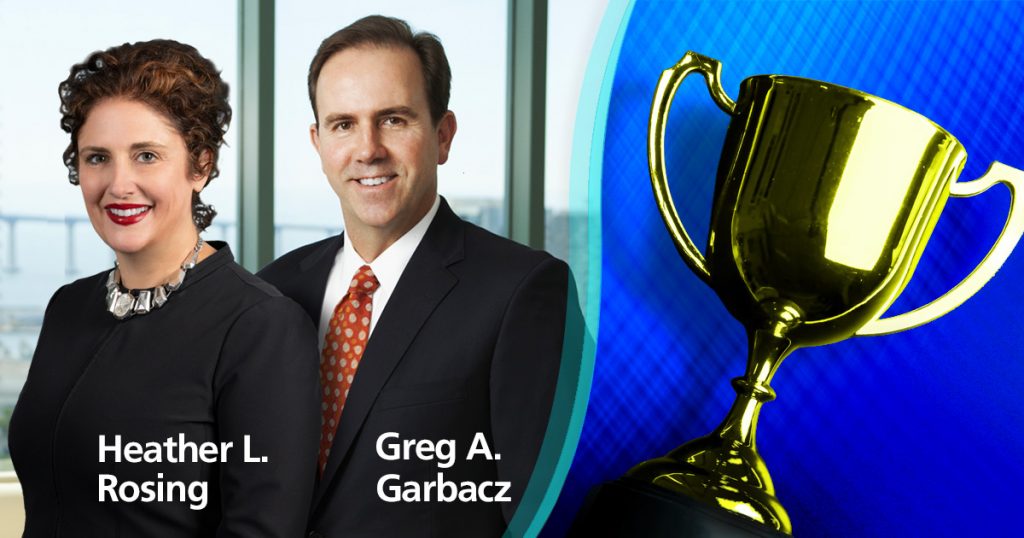 SAN DIEGO, CA – Klinedinst PC is pleased to announce Shareholders Gregory Garbacz and Heather Rosing were selected by their peers for inclusion in the Best Lawyers In America® 2021 edition. Best Lawyers® has published their list for over three decades, earning the respect of the profession, the media, and the public as the most reliable, unbiased source of legal referrals.
Ms. Rosing earned recognition in the categories of Ethics and Professional Responsibility Law, Legal Malpractice Law, and Professional Malpractice Law, while Mr. Garbacz earned his recognition in Employment Law Management. This marks a decade of Ms. Rosings' inclusion in Best Lawyers® and the third year Mr. Garbacz has been included for his work in employment law.
As the oldest peer-reviewed listings Best Lawyers® signal not only top-quality legal services but also adherence to the highest standards of ethics and professionalism.
Best Lawyers® compiles its listings at the conclusion of a months-long peer review process, during which their researchers ask leading attorneys from specific practice areas and geographic regions about the professional abilities of their colleagues.
Ms. Rosing serves as Chief Financial Officer of Klinedinst and is the Chairperson of the Professional Liability Department. She previously served as the first President of the California Lawyers Association (CLA), President of the San Diego County Bar Association (SCBA), and on the Board of Trustees of the State Bar of California. She has developed a nationwide reputation for her experience and skill in litigating complex malpractice and fraud cases, and in advising in the areas of ethics and risk management. Recently, she aided in the creation of RESOLVE Law San Diego, an initiative that aims to help move civil litigation out of the backlog of court cases and along the path towards resolution.
Mr. Garbacz currently serves on Klinedinst's Executive Committee as the firm's Chief Strategy Officer. A skilled litigator, Garbacz provides unique business solutions, strategic advice, and counseling to businesses and has significant experience in the courtroom. He dedicates his practice to employment matters, business/class actions, Director & Officer Liability/Securities, and real estate/housing discrimination litigation. Mr. Garbacz is a member of the American Board of Trial Advocates (ABOTA).
Klinedinst congratulates Ms. Rosing and Mr. Garbacz, as well as all of the recipients of this recognition. To learn more about Best Lawyers® and its methodology, please visit: https://www.bestlawyers.com/
Related News
Klinedinst Associate Irean Zhang has been named to the list of Best Lawyers: Ones to Watch in Professional Malpractice Law. Read More
About Klinedinst
Klinedinst is the go-to firm for clients looking for litigation, trial experience, transactional representation, and legal counsel. The firm's offices in Irvine, Los Angeles, Sacramento, San Diego, and Seattle service the entire West Coast. What sets Klinedinst apart is the relationship our attorneys foster with each and every client. Klinedinst lawyers are indispensable strategic partners to business leaders, helping to achieve business objectives and create proactive solutions to resolve the many legal challenges that businesses are confronted with every day. Whether vigorously advocating for business clients in court, or guiding business transactions and negotiations, Klinedinst is the trusted legal advisor to have by your side.