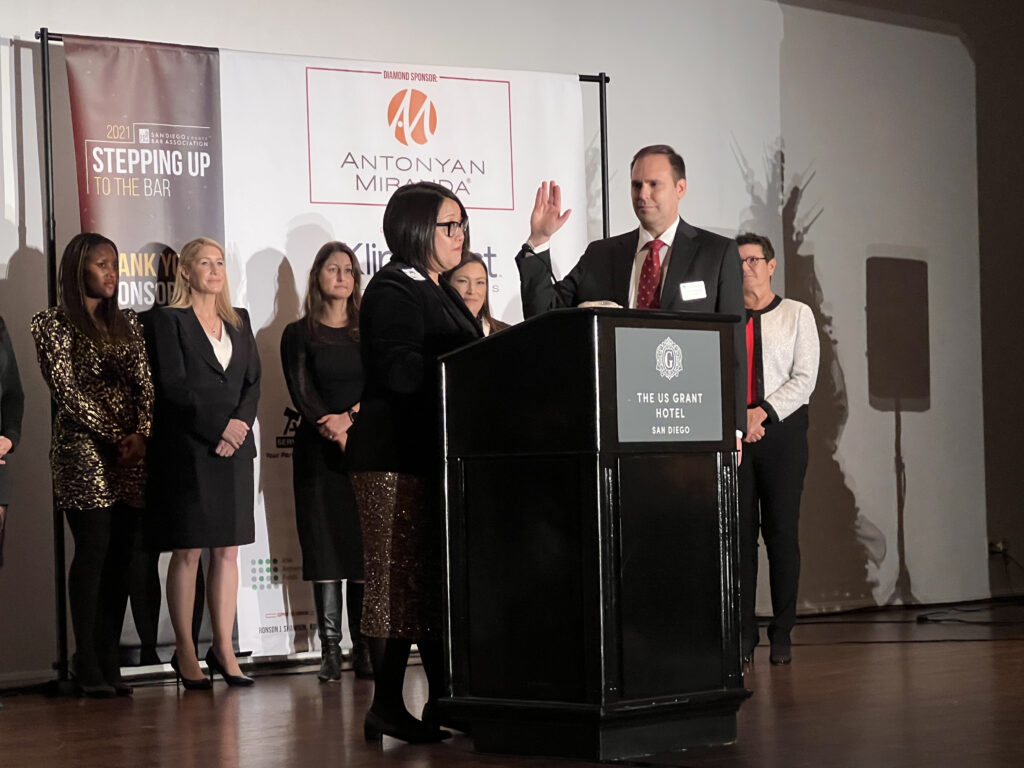 SAN DIEGO, CALIFORNIA – Klinedinst PC is proud to announce that Shareholder and Deputy General Counsel David M. Majchrzak has become the 2022 President of the San Diego County Bar Association (SDCBA) at the organization's Stepping Up to the Bar event.
The San Diego County Bar Association is the region's oldest and largest law-related organization, with over 10,000 members. Mr. Majchrzak, a professional ethicist, was sworn in by Hon. Judy Bae as President of one of California's most prestigious bar associations, providing the legal community with responsible leadership and a commitment to diversity.
At Stepping Up to the Bar, Klinedinst Shareholder Robert M. Shaughnessy was also sworn in by Presiding Judge Lorna A. Alksne to serve as Director of the SDCBA. Mr. Shaughnessy, a Certified Specialist in Appellate Law by the State Bar of California Board of Legal Specialization, first joined the SDCBA Board of Directors in 2021.
Mr. Majchrzak has been an active member of the SDCBA since 2012, taking on a number of diverse leadership roles, including Secretary and Treasurer. A frequent speaker on complex ethics issues, he has served as Chair and Vice-Chair of the SDCBA's respected Legal Ethics Committee. He is also a seasoned author who regularly publishes articles to SDCBA, CLA, and the Daily Journal.
In 2018, Mr. Majchrzak was elected by the general membership to join the SDCBA Board of Directors. His work ethic, his integrity, and his commitment to the legal profession led the Directors to choose him to lead the organization in 2022. As President, David will build on his expertise counseling attorneys on ethics and professional responsibility while also fulfilling the SDCBA's mission of connecting lawyers and assisting them in their success.
"On behalf of Klinedinst, we congratulate David on being appointed as President of the SDCBA," said Heather L. Rosing, Klinedinst CEO who also served as President of the SDCBA. "This is a tremendous achievement for David, who is both a dynamic and passionate leader, as well as a talented professional ethicist."
Mr. Majchrzak has worked at Klinedinst PC since 2009. As part of his practice, David has been counseling clients on how to achieve their professional goals ethically and providing risk management guidance to help them navigate the complex ethical waters of the legal profession. Mr. Majchrzak represents clients in matters involving attorney and law firm risk management, discipline defense, and legal malpractice claims. He has also served as an expert on the subject of legal ethics issues.
"What makes Klinedinst unique is our commitment to supporting people in achieving their own personal and professional goals," added Rosing. "While we know David's new role will necessitate a significant time commitment, he certainly has the firm's full support and encouragement. David will elevate the SDCBA to new heights, and we could not be more proud to have him serve and lead our legal community."
Klinedinst congratulates Mr. Majchrzak on this incredibly prestigious honor, and to Mr. Shaughnessy as he begins his second year of service on the SDCBA Board of Directors. For more information on Mr. Majchrzak , please review his extensive online biography at:
https://klinedinstlaw.com/profiles/attorney/david-majchrzak
And to learn more about Mr. Shaughnessy, please visit:
https://klinedinstlaw.com/profiles/attorney/robert-shaughnessy/
About Klinedinst
Klinedinst is the go-to firm for clients looking for litigation, trial experience, transactional representation, and legal counsel. The firm's offices in Irvine, Los Angeles, Sacramento, San Diego, and Seattle service clients across the West, handling matters in California, Washington, Nevada, and Arizona. What sets Klinedinst apart is the relationship our attorneys foster with each and every client. Klinedinst lawyers are indispensable strategic partners to business leaders, helping to achieve business objectives and create proactive solutions to resolve the many legal challenges that businesses are confronted with every day. Whether vigorously advocating for business clients in court, or guiding business transactions and negotiations, Klinedinst is the trusted legal advisor to have by your side.